16 Nov

Bridge saws – electrical switch replacement

How to replace the main electrical switch on 230V Ghelfi wet saws.

1
Open the main electrical box and remove the old switch.

2
Please note the correct cable plugging scheme as per picture.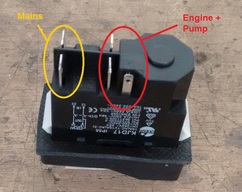 3
Plug engine cable terminals onto new switch's engine+pump pins first. Left-right order is not relevant.
4
Please note that engine cable's terminals that you just plugged onto the new switch bear on their turn a slave pin each. Plug pump cable terminals onto engine cable terminals' slave pins.
Then, plug mains cable terminals onto switch's mains pins.
Again, left-right order is not relevant.
5
Put electrical box's cover back on, and tie its screws.
Procedure's differences accross Ghelfi machine models
The above procedure applies to Squalo, SqualoMAX, SqualoTOP, miniMAX, Revolution 300.
Revolution 100 and Revolution 650, instead, have a slightly different cabling structure, and two electrical boxes instead of one. The first electrical box, positioned near the operator's handle, only hubs engine and mains cables. A second electrical box, positioned onto the engine, hubs the pump cable (circled yellow).
On those 2 machines it is only required to disconnect the mains cable from Box 1 and the pump cable from Box 2.