multiMAX
Bridge saw machine ideal for wet cuts on ceramic and porcelain tiles, and bricks.
Equpped with a 2HP (1,5KW) engine, with POLY-V belt transmission. Supports Ø 300 and 350 mm blades. It can cut up to 140 mm deep in a single run, 160 mm in a dual run.
Available in three standard models featuring different maximum cutting lengths:
Art. 1163 – multiMAX – Cuts up to 75cm long
Art. 1183 – multiMAX 100 – Cuts up to 105cm long
Art. 1188 – multiMAX 130 – Cuts up to 135cm long
A unique working table modular design allows for a quick and easy reconfiguration enabling sliding cart cutting on the same machine.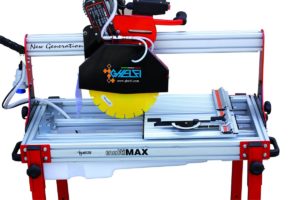 As for all "New Generation" series Ghelfi machines, its main structure is made of Aluminum: it is therefore extremely resistant to any distortion, resulting in excellent cutting precision over time. Aluminum also means total rust resilience and very long life expectancy.
All Ghelfi cutting machines are manufactured and assembled in our manufacture production plant in Bologna, the same place where for more than over 40 years we continue to accrue an evolving experience in research, design, implementation and assistance on machinery and accessories needed every day by tile, flooring and masory professionals.
We serve the most demanding professionals, or customers with unusual requirements, building on-demand customized machines, or variations of our standard machines, based on their specific requirements.
Why is multiMAX the best choice?
| | |
| --- | --- |
| ALUMINIUM CHASSIS | Machine's chassis is made of extruded aluminum profiles, featuring superior robustness when compared to old generation iron-based machines. Aluminum is also unattackable by rust, and very lightweight. Perhaps most importantly, aluminum profiles are virtually undeformable even when the machine is placed on uneven surfaces, all this yelding much better cut precision over the entire product lifetime. |
| WORK SURFACE | The work surface is also made of rust-free aluminum, like the main chassis – minimising friction with cut material during positioning. It is split in two halves, easy to lift to facilitare underlying water tank cleansing. Worktable overall width is a generous 51cm, and can furtherly extended adopting optional side supports. |
| SLIDING BRIDGE AND MOVING PARTS | The bridge supporting cutting head's horizontal sliding is made of an integral 40x80mm extruded aluminum profile. Cutting head's movement is granted by 4 armored stainless steal ball bearings, running on 2 rails – one above the bridge, one underneath – also made of 100% stainless steel. Opposite to what happens on machines from our competition adopting nylon wheels regularly wearing out over time and usage, our bearings offer superior wear resistance, and virtually eliminate periodical maintenance / calibration requirements. |
| MODULAR STRUCTURE TABLE | The machine's working table is developed based on a modular structure. By simply removing far-end work surfaces locking cutting head in place, sliding cart cutting capacity is enabled – typically preferred for bricks and other block-shaped building materials. |
| CABLE CHAIN | Electrical cables and water pipe feeding the cutting unit are protected by a robust yet very flexible plastic chain, assembled as to always keep above the sliding bridge thus offering protection from potentially severe damages originatind during cut or transport. The chain features single-serviceable links. |
| BELT TRANSMISSION | Based on a top-quality POLY-V belt, the transmission system increases the available torque resulting in superior cut power. The engine's bulk is also displaced from the cutting point, thus automatically granting higher cut depth. |
| WATER TANK | The water tank is made of Polyethylene, a very strong plastic material featuring resistance to low and high temperatures, and non-deformable. It is unattackable by rust, and does not leak. Equipped with a handy screw-cap, virtually impossible to accidentally be removed, it is easy to clean. |
| MITRE (45°) CUT | Horizontal sliding bridge and cutting head can easily be reclined to execute 45° ("mitre") cuts. A plug-in extension applicable to base squares is supplied to extend them either side to better support mitreing on larger slabs. For the most demanding cases optional side tables and counter-square bars are also available. |
| HEAD TILTING SYSTEM | Cutting unit's built-in vertical tilting system enables the operator to calibrate cut thickness to the desired value in total safety and ease. |
| MECHANICAL PROTECTIONS | Bilateral blade protections reduce water dispersion, water splash, and moreover contribute protecting the operator from accidental blade or debris contact. Electrical cables and water pipe feeding the cutting unit are protected by a robust yet very flexible plastic chain. |
| ELECTRICAL SUBSYSTEM | The machine's electrical subsystem includes a magneto-thermal safety device protecting the engine for overheats/overloads, and even more importantly a release coil preventing accidental switch-ons following unexpected power supply breaks. |
| WATER PUMP | Based on magneto-inductive technology, it won't fail/burn even in case of hard jamming. Extremely reliable, no filters to clean, maintenance free. |
| LEGS | Rear legs are provided with wheels to ease local machine movements. To facilitate machine handling and transportation all legs are retractable to reduce overall system size, and feature a special fall-protection system greatly easing operations even to a lone user. |
| | |
| --- | --- |
| | multiMAX supports Ø 300 and 350 mm diamond blades. |
| | Mitre cuts are easily executed by side tilting the bridge up to 45° |
| | Goniometric square. |
| | Optional bilaterally-installable side table with nylon rollers |
| | 160 mm maximum cutting depth with double run. |
| ITEM | DESCRIPTION |
| --- | --- |
| 1163 | multiMAX – BRIDGE AND CART STRUCTURE WET SAW – SUPPORTS Ø300 AND 350MM BLADES – MAX LENGTH 75CM |
| 1183 | multiMAX 100 – BRIDGE AND CART STRUCTURE WET SAW – SUPPORTS Ø300 AND 350MM BLADES – MAX LENGTH 105CM |
| 1188 | multiMAX 130 – BRIDGE AND CART STRUCTURE WET SAW – SUPPORTS Ø300 AND 350MM BLADES – MAX LENGTH 135CM |